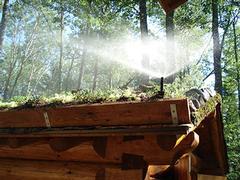 When you select the professional design and installation service of Green Lawn Underground Sprinklers, you are receiving an irrigation system unique to your property needs. We guarantee to provide you a solution that will be innovative and efficient to your property.
Our job is to make our environment a beautiful place which is why it is necessary that we offer environmentally friendly solutions. Conservation plays a key role in our business. We apply efficient watering practices in our system design and components selection for every project we complete. Our motto is to use water wisely, responsibly and efficiently which is one reason why Green Lawn Underground Sprinklers received the Hunter® Conservation Contractor Award.
Please contact our office today, 715.539.1133 to have the greenest lawn in your neighborhood!