Your Trusted Resource for All Things Irrigation
When you select the professional design and installation service of Green Lawn Underground Sprinklers, you are receiving an irrigation system unique to your property needs. We guarantee to provide you a solution that will be innovative and efficient to your property.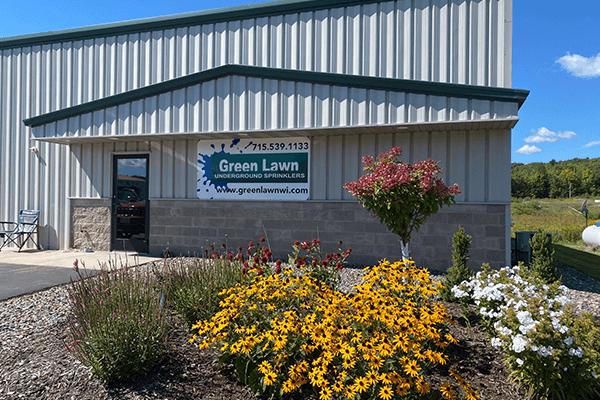 Experienced - 19 years of project experience and counting
Unique Solutions - Custom solutions for your property and project
Expertise - Professional and knowledgeable staff, specializing in irrigation and staffed year-round
Professional - Smart system design and efficient water usage with professional grade components
Enjoy Life - Automate your watering to save water, save time, and enjoy more of life's moments
Our Certified Team
Our team of installation, service and support professionals are here to meet all of your irrigation needs, year-round. We specialize in irrigation to provide you with the best possible product offerings and service in the area. You can trust our proficient team to install your new system, professionally maintain your system each season, or troubleshoot any issues or repairs that are needed.
Service
We provide irrigation solutions for Residential and Commercial landscapes. With nearly twenty years of experience and a variety of successful irrigation projects completed, we look forward to the opportunity to apply our knowledge to your project.
Let us automate your watering, to help you create a lush, vibrant, healthy, and hydrated landscape. Beautify your property and protect your landscape investment, water responsibly with us. We can free up your time to relax and enjoy life in a beautiful and healthy outdoor space.
We specialize in irrigation
We install professional-grade components and offer new technologies
Trusted partnerships with landscape professionals throughout central and northern WI
Our staff has knowledge in soils, plants, trees and turf to design and program optimal watering, allowing your property to thrive.
---
We provide
Unique Solutions
for your property.
Custom layouts and system design
Water savings and responsible use of our natural resources
Automated watering to save time and money
Precision Watering through system design
Industry-leading technology
---
19 years of successful projects and counting...
Investing in our staff through training and industry certification
Full-time installation crews and service technicians
---
Here for you
When You Need Us
Full time staffing year round
Serving central and northern Wisconsin for nearly 20 years
Wisconsin owned and managed business
Not just a summer job or hobby. We provide a business structure to professionaly serve our customers throughout the year
New Installations
Building a new home, updating landscaping, or looking to upgrade the health of your existing lawn? We provide free estimates to install new systems and are a trusted partner with many landscapers and builders throughout central and northern Wisconsin.

You can trust our proficient installation crews to complete an irrigation system on your property with minimal disruption to your landscape. Our attention to detail stands above our competitors. When your project is complete, you will have a sprinkler system that will keep your lawn the greenest in your neighborhood.
Existing System Upgrades
Outdated system, missing head-to-head coverage, or not happy with your current system? We can help. We can provide a site visit and no charge system analysis. Our expert professionals will provide solutions to update and automate your watering.
Maintenance
Professionally start up and winterize your irrigation system each season. Doing so, ensures optimal watering and performance.
Repairs
Putting in a new patio or having some new technology lines installed in your area? We can help relocate or repair any damage to your system. Irrigation systems have mechanical parts, and over the years, they may require service.
Let's Talk. Contact Us Today.